Excellent Business Card Designs
Your business card is an essential part of your business. It's like a personal billboard that you hand to each and every client you come into contact with. Also, many people will pass your business card onto people they meet, so it's an invaluable tool in your marketing arsenal. That why your business card designs are so important. They say so much about who you are, what you do, and that you really mean business. Let's take a look at 15 inspiring business card designs you'll love.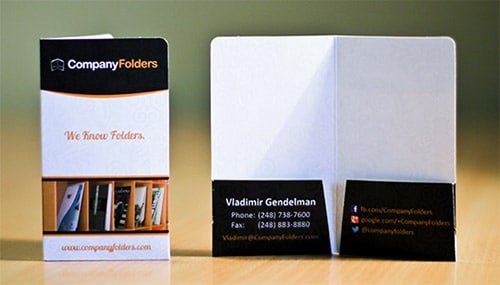 This is certainly a unique idea and a cool design. It is a great way to stand out and do something no one else is doing.
These business card designs use edge painting to unify all sides of the business card. A typical tactic is to use one of the brand colors as the edge color, to tie everything together.
This letterpress business card looks like a high end fabric, but it's actually paper. The craftsmanship that went into this card, combined with the gold foil speaks of the quality.
Using an unconventional material for your business cards can get a lot of attention. Cardboard, combined with gold foil, really stands out.
Contrast is key, and everything about this card comes together to create a jaw dropping design. The embossed seal and the varnish gives this business card a lot of elegant details.
Texture itself is a design element. You can see that here with the letterpressed shapes and lines. It makes what could be a boring business card a really eye-popping design.
This is an exceptional business card design. Every minute detail comes together to give this card an authentic sliced bread texture.
Not only is this business card metal, it's all die cut with varnish. This adds durability and dimension to each card, and the unexpected materials make it really stand out.
Shape is a great way to make your business cards stand out. This business card is square, thick and it has painted edges.
It's hard enough to pull off a nice letterpress design, but add foil stamping in the recess, and you really get a powerful effect.
This business card actually has sliding elements. Adding interactivity, especially when it's something people will want to play with, will make your card a favorite on any client's desk.
Letterpress is usually done for average sized letters. Creating it for large shapes isn't always easy, and it can be an unexpected element with a lot of impact.
The old school type, combined with the decorative design elements, adds to the nostalgia of this card.
This is a premium template on Graphic River, but I still like the mix of warm and cool colors for contrast. The polygonal style is popular right now.
Imagine having your own wooden business card. This would be great for eco-friendly businesses.

I can't imagine how difficult this was to accomplish, or how much it costs to make. However, it makes an immediate impact on anyone who sees it.
Conclusion
We've gotten to enjoy 15 awesome business card designs that are sure to make your business stand out. They've each used a different material, effect, style, size or shape to set itself apart from average business cards. Which of these business card designs is your favorite? I'd love to hear which one you loved the most. Please leave your thoughts in the comment section below.
Similar Posts: